Cántame (sing me): a poetic documentary for a sung performance process (postponed)
When and Where
Friday, March 04, 2022

2:30 pm

to

5:00 pm
Description
***This event has been rescheduled to March 4, 2022***
Join us online for an exclusive community screening of Cántame, an independently produced, poetic documentary that responds to and moves with the extraordinary creation and performance process of a small team of actors in Buenos Aires. Stay with us after the screening for an intimate conversation with Canadian documentary filmmaker and photographer, Trevor Meier, alongside Argentinean actor, theatre director, teacher, singer, and song-writer, Alejandro Tomás Rodriguez (actor with the Workcenter of Jerzy Grotowski and Thomas Richards between 2007-15, currently Assistant Professor of the Theatre and Dance Department at UNM), and Argentinian actress, dancer, and singer Catalina del Barrio Viscay (co-director of Casa Talcahuano).  
 
In Trevor's words: 
"Cántame is a deeply personal film […] about magical transcendence pursued through a difficult and precise process of creative work. […] Special, precious and rare, this magical transcendence is on full display in the film. […] Under the skin this film is as much about labour as it is about art. You can feel the movement of the artists on screen and the machinations of me as filmmaker and puppeteer, both pulling the strings and begging for the labour of love to be noticed alongside the poetic final result. This layered experience is what I sought when I discovered Ale, Cata, Nico and the rest of the members of Casa Talcahuano. I was mystified by their ability to blend practical work in a professional environment with a daily experience of something so sublime. My aim was to replicate that experience through cinema." 
Registration details will be shared soon. 
Artist & Presenter Bios
Trevor Meier - Film Director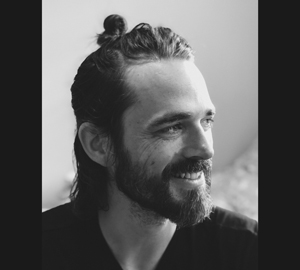 I'm a documentary filmmaker, photographer, writer and full-time nomad. I travel to spend time with the most interesting people and places. I listen to others' stories with an open heart, to grow and to learn new ways of being. I love to find different points of view and share what I learn. I've made three feature-length and many short documentaries along the way. If all goes well, I'll spend a lifetime making more. Originally from Canada, I now carry everything I need to live and work in a backpack sized to fit under the seat of an airplane... or I will again, when the world allows such things once more.
Alejandro Tomás Rodriguez - Actor & Director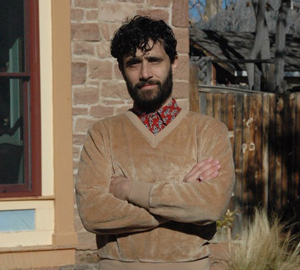 Alejandro Tomás Rodriguez is an Argentinean actor, theatre director, teacher, singer, and song writer. His field of expertise includes devised theatre; community engagement; voice; movement; diverse styles and techniques within contemporary performance practice. 
Alejandro is Assistant Professor of the Theatre and Dance Department at UNM (since Fall 2020), as well as the lead vocalist and songwriter of ENGINE, a Latin-alternative-cumbia-rock band based in Paris. (The band is recording its 3rd explosive album, Fuego.) Previously, he was Artistic Director of the theatre ensemble Casa Talcahuano (Buenos Aires), where he also worked as an actor (2015-17). From 2007 to 2015, he worked at the Workcenter of Jerzy Grotowski and Thomas Richards (Italy), where he became a key member of the Open Program, directed by the Workcenter's Associate Director, Mario Biagini. 
Alejandro conducts pedagogical programs in the Americas and Europe. The encounters function as an attraction pole for individuals of different backgrounds and cultures to work together and explore performing techniques as well as their own inner potential. His research and artistic work embrace different branches of Latin America urban music, including: reggaeton, electronic cumbia, and funk.
Catalina del Barrio Viscay - Actor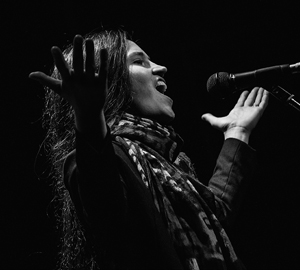 Catalina del Barrio Viscay is an Argentinean singer, actress, and music teacher.  She received a degree in Music (2020) with a specialization in Education, and she has worked as a private singing teacher and as a professional singer and actress for more than ten years. She's worked in the theatre group Casa Talcahuano since 2015, where she became Alejandro Rodriguez's main collaborator and assistant. She performed in Oda a los Desterrados (2015-2017), Hay alguien Ahí (2019), and Tertulias (2019).  Since 2017, she has been coordinating intensive workshops, retreats, and work encounters in Argentina, Chile, and Brazil, where she investigates the emerging living processes that appear within individuals while singing, dancing, and acting. 
During the pandemic, Catalina dedicated most of her time to drawing and painting and is now studying anthroposophical art therapy. Currently, she is the co-director of the group Casa Talcahuano, and she leads the group's singing practice. She is also currently preparing new performative material for the "Viento en Popa" festival (created by the group), focused on philosophy and environmentalism. She is also preparing a new music project of her own to be presented in the same festival.  
Myrto Koumarianos - Presenter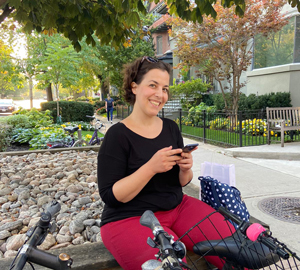 Myrto Koumarianos is a Toronto-based, first-generation immigrant-settler of Greek heritage. She is a writer, performer, dramaturg, and PhD candidate at the Centre for Drama, Theatre and Performance Studies and at the Women and Gender Studies Institute at the University of Toronto. Her dissertation is entitled A Practice in Song: Performance and Prayer with the Open Program, and it is based on her embodied research with the Open Program of the Workcenter of Jerzy Grotowski and Thomas Richards in Italy, the USA, and Brazil. In her local theatre work, Myrto has collaborated in various capacities with Ars Mechanica, the Ditch Witch Brigade, the Digital Dramaturgy Lab, the Toronto Theatre Laboratory, and others. Currently, Myrto is attempting to maintain/revive a singing practice in her lockdown 'bubble' in Toronto, while also singing online with the NYC Seed Group. She's also been dreaming up online creative collaborations, including about Greek/Turkish coffee ground readings and histories and about women's traditional mourning practices.