"I believe that with this production, Hart House Theatre is committing itself to an intervention through which to reimagine its role within and to commit itself to the urgent project of re-presenting itself as a site of fruitful encounter wherein Indigenous voices will continue to be heard season after season, year after year, and wherein the fraught relationship between Canadians and Indigenous peoples may be addressed and gradually restored/restoried."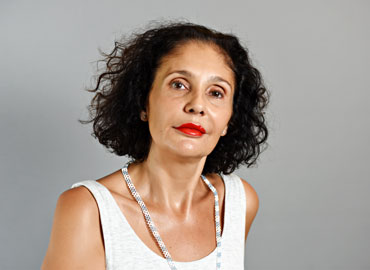 Professor Jill Carter
To kick off Hart House Theatre's 100th Anniversary season and as a special presentation, Encounters at "The Edge of the Woods" will explore the restor(y)ation of treaty relationships using Indigenous practices of Storyweaving through deep connections to the land. Led by Indigenous educator and artist Jill Carter, who is a professor at the Centre for Drama, Theatre and Performance, Indigenous Studies and the Transitional Year Programme at the University of Toronto, the piece will include performers and creators from all over the city who will use their personal stories and experiences to compose Encounters at the "Edge of the Woods."
Below, Jill Carter discusses the Storyweaving project that she is curating and directing in association with Hart House's 100th Anniversary.
For those unfamiliar with Storyweaving, could you please elaborate a little bit?
Storyweaving is a methodology, which was authored by Guna-Rappahannock theatre-artist Muriel Miguel and which has been developed by the artists of Spiderwoman Theatre—the longest running Indigenous theatre company on this continent and the longest-running feminist collective in the world. Storyweaving is a distinct methodology that governs the dramaturgical structure and performed transmission of this company's play texts on the contemporary stage. However, the Storyweaving methodology predates written history. It has been (and remains) specific to tribal storytellers across this continent. The reclamation, then, of this aesthetic legacy by contemporary Indigenous storytellers is a crucial act of recovery, which imagines and architects a functional framework for a Poetics of Re-worlding.
This is both a course and a subsequent theatre production. As a theatre practitioner and instructor, you seem uniquely qualified to lead this project. What is it like to work on theory with students and then work together with them to actually put that theory into practice in front of a live audience?
The course (Call 45: Restor(y)ing Treaty Relationships) has been conceived as an avenue of preparation for students who are interested in participating in this production. It offers a blended program of theory, creative practice, land-based experiential sessions, sharing circles, workshops, and storywork to ask, "What is the work of the 'ally' in this historical moment? What actions might be undertaken by the individual settler-Canadian (citizen, permanent resident, or temporary visitor) to contribute to an urgent project of redress, re-treating, and relationship building?
It is, however, important to remember that students in this course will not be obligated to participate in Encounters at the 'Edge of the Woods,' and some might be neither interested nor available. At the same time, participation in the show is not predicated on a prior involvement with this course, so participation by members of the university community and of the local Indigenous community will be solicited.
If theory cannot be put onto the ground and manifest itself through practice, it holds little interest for me. This is the frustration I feel with all of the dialogue around land "acknowledgement," "reconciliation," and "decolonization." What good does it do to "acknowledge" the Dish with One Spoon Treaty, which is a foundational "document" that should direct the ways in which we do life in Tkaronto? One may understand this "document" and articulate one's understanding, but unless one manifests one's understanding through action, such theorizing accomplishes nothing. So, I am excited to work with a vibrant and sincere group of youthful (in heart, mind, and spirit) individuals who are being transformed by an ancient knowledge-system, which is indigenous to these territories—utterly rooted in these lands. I am excited to discover just how they will "act out" and act out of these transformations , how they will mediate possible sites of profound encounter and renewal; how they will begin to write themselves into a chapter of the ancient Stories written in these lands; and how they will actively re-present themselves to me, to you, and to each other as treaty peoples in Tkaronto / Gchi Kiiwening.
Had you ever worked on a project of similar scope? What challenges and benefits do you anticipate encountering?
I have had the privilege of working with several productions of similar scope in various capacities—as writer, director, or performer. Currently, I am still involved with (Jumblies Theatre's) Talking Treaties, a large outdoor spectacle, which has been performed at Fort York (2017 and 2018) and which we are now filming for a digital project.
The greatest challenge, I think, that confronts me is my responsibility to curate a space in which all participants will encounter each other in safety. Alongside that is the responsibility I feel to ensure that these encounters propose something, some course of action, some possible solution, that the something offered is not simply a sentimental, feel-good moment but a transformative possibility that has emerged from rigour, humility, respect, courage, honesty and love.
With Encounters, the next challenge that weighs upon me is the challenge of packing this huge bundle into a "carry-on suitcase." On this campus, I have encountered so many students, faculty, and staff whose stories belong in this production and whose modes of articulating those stories beggar the imagination! In my life outside campus, I meet and work with emerging Indigenous artists who breathe fire, scorching the earth with their oratory, so that out of the ash, new worlds may spring up. Their stories are needed here – in Encounters. So, the challenge will be to work within the temporal and spatial parameters allotted to this production. Already, I envision it overspilling banks and flooding Hart House Circle with speech acts and joyous utterances.
The course will gather a diverse set of students from Indigenous, settler and immigrant histories. Have you worked before with immigrant students, who likely know less about Indigenous matters in Canada than students of Indigenous and settler backgrounds? If so, what was that like?
Believe it or not, it is not so likely that newcomers will know less about Indigenous people than their Canadian-born colleagues. Now, sometimes this is true. But the thing about newcomers is that they are often aware of what they don't know, and they actively seek the opportunities to learn. This, until quite recently, has not been so true of those who have been born in Canada. Many settler-Canadians have assumed that they already knew all they need to know about the history of this nation, which (they were taught) began in 1867. Tipis, feathers, leathers, beads, substance abuse, poverty, reserves, free medical care, and free education are what they 'know' about Indigenous peoples and all they thought they needed to know. Shockingly (even in the wake of the TRC and MMIWG Final Reports), many Canadians still think this way.
But to answer your question, it is wonderful to work with people who, perhaps, do not know and are eager to learn. Often, too, people from abroad have important teachings to impart to those of us from these territories. Many of these people are fleeing from war, persecution, and other hardships. Many have fled to these shores from colonized lands, and the insights they offer enrich our own understandings.
Can you tell us a little bit about your previous involvement with Hart House and Hart House Theatre?
My involvement has been very limited, sadly. However, I have had the opportunity of seeing several wonderful Hart House productions over the years and of introducing some of my TYP classes to Hart House productions. 2017-18, I adjudicated the Hart House Drama Festival. This festival of completely student-driven productions was unforgettable! The artistry, the inventiveness, the ebullience, and the raw honesty of these young culture-workers made the seats shake and the walls hum! I was at once humbled invigorated and overwhelmed to witness their fine, fine work!
How do you see Hart House's role evolving into our next hundred years, both with respect to extracurricular education and the acknowledgement of Indigenous peoples and the sharing of their culture? How would you encourage today's students to get involved on campus?
The stories we tell can lift our neighbours up, or they can silence, denigrate and destroy. The stories we tell can open up spaces of fruitful encounter between Indigenous and non-Indigenous peoples, or they can engender disaffection, distrust, and disengagement.
This year, Hart House Theatre marks one hundred years of contributing to the development of the storytellers and to the dissemination of the stories that have sparked the Canadian imaginary and shaped the identity of this nation. I believe that with this production, Hart House Theatre is committing itself to an intervention through which to reimagine its role within and to commit itself to the urgent project of re-presenting itself as a site of fruitful encounter wherein Indigenous voices will continue to be heard season after season, year after year, and wherein the fraught relationship between Canadians and Indigenous peoples may be addressed and gradually restored/restoried.
Outside the classroom, if students do not know what treaty/ies govern the territories upon which they study, live, and work, then their first task is to find out. Who are the original stewards of these territories? Are those lands unceded? Are they under treaty? What are the terms of those treaties? How might you (apart from your political leaders) do your part to keep treaty with the biota that sustains you, with all of the humans and non-human creatures to whom you are bound—to whom you are related?
Instead, perhaps, of simply beginning a student-run event with a land acknowledgement organizers might consider taking up a collection, which could be gifted to a local Indigenous organization or Band. Such a token would express in action the appreciation of all participants in this event – appreciation for the opportunity to gather on these lands, so carefully stewarded by Indigenous peoples since time immemorial. If such an action (gifting to express both appreciation and a desire to begin and maintain ethical relations) were repeated, over time, a bond of trust and kinship would, I think, be forged.
In Tkaronto, what actions might young Canadians undertake to fulfil their responsibilities to the Dish with One Spoon Treaty? You can't know this until you understand the terms of that treaty, the context in which it was forged, and its spirit and intent. So, the first task (within or apart from the classroom) is to learn.
Outside the classroom, one might not know which sources of information to access. Ask! Contact the local Native Friendship Centre; contact First Nations House; speak to Elders and Traditional Teachers who are there for ALL students at this university. Contact the Indigenous Studies Department for book recommendations. Read Indigenous writings; view Indigenous art; witness Indigenous plays. Attend talks by Indigenous speakers. Attend events, hosted by Indigenous students, such as the annual Pow Wow.
When I encounter a student, I see a future educator; I see a future lawmaker, peacekeeper or judge; I see a politician who will craft legislation; I see a healthcare worker; I see a social worker; I see an entrepreneur, a computer programmer, a researcher, a historian, a scientist, a storyteller…
I see the one who has already begun to write a world into which their children and mine will be born and will have to learn to live…
Together.
Categories