Opera Film Baņuta: Love is a Battle
When and Where
Wednesday, November 16, 2022

7:00 pm

to

10:30 pm
2 Sussex Avenue, Toronto, Ontario
Description
The CDTPS is proud to present the opera film Baņuta with the primary artists in attendance. The feature-length film will be shown at the Innis Town Hall Theatre on November 16, 2022, at 7 pm. There will be a short talk before the film's screening and a Q&A at the end. The language of the opera is in Latvian and German with English subtitles.
Tickets will be free for U of T students/ $20 for the general public. To purchase your ticket, visit banuta.eventbrite.ca. 
Doors open at 6:30pm.
The opera film Baņuta is an international project that melds opera, music performance, and cinematography into one riveting feature-length film. 
The story is about a young woman fighting for love amidst the trauma of war. Baņuta is a partisan in both a mythical past and in 20th century Eastern Europe, when her life is saved by the Lithuanian prince, Daumants. Speeding away on a motorcycle, he takes her to his homeland in Romove, a holy Baltic site. Preparations for their wedding are interrupted by ravens, who remind Daumants of his crime against a girl he raped and killed. Soon Daumants falls in battle, and Baņuta is caught up in sacrificial rituals and revenge. Nevertheless, she refuses to give up her struggle for happiness. 
When composer Alfrēds Kalniņš' premiered Baņuta in 1920, it was the very first opera ever written in the newly decolonised, independent Latvia. More than a hundred years later, director Franziska Kronfoth from Berlin and dramaturg Evarts Melnalksnis from Riga bring together Latvian artists and the German music theatre collective "Hauen und Stechen" to reinterpret the dramatic message without nostalgia. Baņuta's struggles invoke the collective experience of women who have suffered through the wars of Eastern Europe and are suffering again today in Ukraine and across the globe. A contradictory sense of humour seeps into the tragedy, while characters stuck deep in the centuries strive to break the fourth wall.
Made during the covid crisis, the production rips the opera out of its traditional space and is filmed both outdoors and in a post-industrial venue. Applying methods of exuberant deconstruction, the creators open this classic work up to a contemporary audience.
View the trailer (with English subtitles).
Supported by the Centre for Drama, Theatre and Performance Studies, University of Toronto; the Latvian National Association of Canada and Daugavas Vanagi. 
Franziska Kronfoth, Director 
Franziska Kronfoth works as a freelance director, dramaturg and actress and is based in Berlin. She deals intensively with the artistic form of opera and its surrounding structures; her work explores the relationship between film, live video, performance, visual arts, drama and musical theatre. In 2012, she founded the MUSIKTHEATERKOLLEKTIV HAUEN-UND-STECHEN together with Julia Lwowski, which caused a sensation with the performance series of the same name. Recent directorial works: Baņuta (as a opera-film 2020, as a live show in Riga and Berlin 2022) Die Verurteilung des Lukullus (State Opera Stuttgart 2021, nominated to the Faust-Preis), M'Orpheo (Theater Regensburg 2020), Kitesh (Opera Halle, Theater Bremen 2020-2022), Zeig mir deine Wunder based on Rimski-Korsakows Snegurotschka (Bavarian State Opera), Othmars Geisterhaus in the house of the artist family Schoeck in Brunnen (CH), Orpheus (Hamburg State Opera), Friedrich & Voltaire & Us (Music Festival Potsdam Sanssouci), Die Herzen des Oktopus (Sophiensæle) a.o. While a student director, she worked with Frank Castorf, Christoph Marthaler, and Georges Delnon. Franziska Kronfoth is also an actress, performer and musician. She has worked with Maria Magdalena Ludewig, Vegard Vinge and Ida Müller, Philip Decker, Julia Lwowski, Roman Lemberg and Jakob Klaffs. She developed the stage videos for the productions Die Fledermaus, Macbeth, Once In A Lullaby and Kindertotenlieder by Julia Lwowski. In 2008, she made a large silent film for her production Rigoletto, which was invited to the Volksbühne.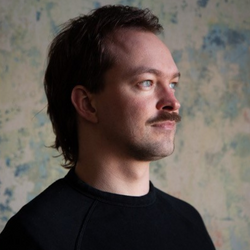 Evarts Melnalksnis is a music theatre dramaturg and curator. He focuses on postdramatic theatre strategies, contemporary music theatre, interdisciplinary and international cooperation. He studied at the Hamburg University of Music and Theatre, and was awarded a DAAD (German Academic Exchange Service) scholarship as well as the "Musiktheater heute" scholarship for young music theatre professionals (2016–2018). He gained experience as dramaturgy and directing assistant at the "brutWien" in Vienna, the Ruhrtriennale, Stuttgart Opera, and Berlin State Opera.  As dramaturg he worked on the production "Membra. Als ich im Sterben lag" with the music of D. Buxtehude and the world premiere of "The Night of the Sea Urchins" at the Hamburg State Opera, where he also participated as a singer. He is the founder of the Latvian theatre troupe KVADRIFRONS and dramaturg of its several performances, including "The Spring" which received the national theatre prize (2019). He was the curator of the exhibition cycle at the Riga Circus elephant stables, and dramaturg of the opera I Played, I Danced at the Latvian National Opera, which received the national Music Award in 2019. He is the initiator and dramaturg of the Latvian opera film Baņuta in cooperation with director Franziska Kronfoth and the music theatre collective "Hauen und Stechen" (Berlin). Melnalksnis regularly publishes articles on contemporary theatre processes, works as a lecturer, moderator and participates in conferences. He was a guest editor of the topic "contemporary music theatre" in the theatre arts magazine Teātra Vēstnesis and is curating an anthology of stage arts texts.
Map
2 Sussex Avenue, Toronto, Ontario
Categories