When and Where
Saturday, December 04, 2021 2:30 pm

to

Sunday, December 05, 2021 4:00 pm
Description
The 2021 Directors' Showcase will feature five short plays, presented over one evening and two matinee performances, in a fringe-style festival this December 4 to 5. This event will be streamed online on YouTube. Reserve your free tickets at directorsshowcase2021.eventbrite.ca
After each evening or matinee performance, the directors will host a live talkback session on Zoom. The Zoom meeting details for the talkback session will be shared with the YouTube live stream link prior to each performance to those who have reserved their tickets through Eventbrite. 
|   | Friday, December 3 | Saturday, December 4 | Sunday, December 5 |
| --- | --- | --- | --- |
| 2:00pm |   | Fetch, Sea Sick, Silence | Drowning Ophelia, Norma Jeane Baker of Troy |
| 7:30pm | Fetch, Sea Sick, Silence CANCELLED and moved to Saturday, Dec. 4 at 7:30pm | Drowning Ophelia, Norma Jeane Baker of Troy, Fetch, Sea Sick, Silence  |   |
Below are descriptions of the five performances and their cast and production teams. Each show is around 20 minutes in length with a brief set change in between each show. 
Read the 2021 Directors' Showcase Program. 

Written by:  Rachel Luann Strayer 
Directed by: Kimia Karachi 
Saturday, December 4, 7:30pm
Sunday December 5, 2:00pm
Drowning Ophelia is a one act dark comedy that explores the long-term consequences of childhood abuse, and a reminder that hope is always there for those who seek it. It follows the story of Jane, and Ophelia, the literary character who has taken up residence in Jane's bathtub. As Jane's past intrudes dangerously on her present, it becomes clear that Ophelia is not simply a character from Hamlet, but a long-forgotten messenger with a question from Jane's own troubled mind: How do you move on when reconciliation is not an option? Drowning Ophelia is a brutal, yet delicate, and theatrically enthralling love letter to those who have suffered. This powerful and beautifully crafted survivor's tale lives between memory and imagination, thought and action, all supported by a wise Ophelia who walks alongside Jane as she grapples with her trauma and survivor's guilt. 
Cast and Production Team:
Director: Kimia Karachi
Playwright: Rachel Luann Strayer
Stage Manager: Chelsea Young
Sound Designer: Kimia Karachi
Lighting Designer: Cass Iacovelli
Stage Designer: Miriam Mansour
Costume Designer: Emily Gagliano
Graphic Designer: Benny Soave
Choreographer: Kimia Karachi
Jane: Ohryong (Olivia) Kwon
Adam: Nezar El-Rayes
Ophelia: Zia Parcon
Written by Cat Walsh
Directed by Jordan Chan
Saturday, December 4, 2:00pm
Saturday, December 4, 7:30pm
Originally written and performed at the Fringe Festival by Canadian playwright Cat Walsh. The play is set in a parallel dimension, where two supposedly identical girls compete to be the only Hannah Morgan in existence. As they tell and relive the memories of their family and the tragic event during a family trip to the amusement park, a mysterious haunting stuffed dog named Mr. Anderson starts appearing in their lives.
Who is Mr. Anderson?
Cast and Production Team:
Director: Jordan Chan
Stage Manager: Abi Akinlade
Set Designer: John Cleave
Lighting Designer: Madeleine King
Sound Designer: Casey Hua
Costume Designer: Raquel Ravivo
Make-up Artist: Rawan Al Qahwaji
Graphic Designer: Sabrina Yu
Hannah (L) by: Raquel Ravivo
Hannah (R) by: Aiyana Harvey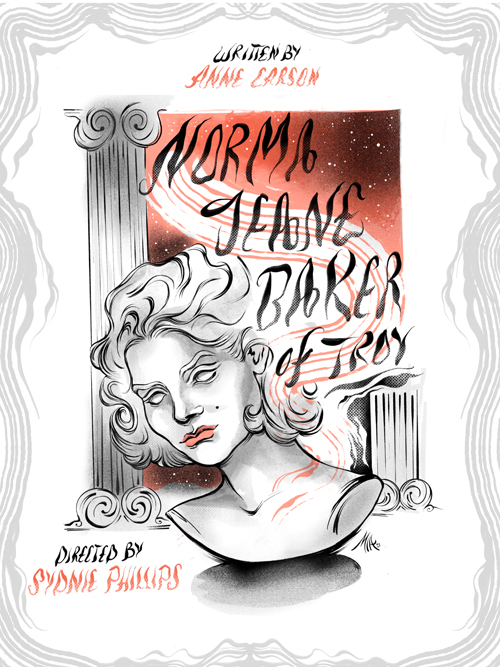 Written by: Anne Carson 
Directed by: Sydnie Phillips 
Saturday, December 4, 7:30pm
Sunday December 5, 2:00pm
"I expect you've heard of the Trojan War
and how it was caused by Norma Jeane Baker, 
harlot of Troy. 
Well, welcome to Public Relations. 
That was all a hoax." 
 
In Norma Jeane Baker of Troy, poet and classicist Anne Carson conflates the famously beautiful and notoriously abused figures of Norma Jeane Baker, better known as Marilyn Monroe, and Helen of Troy. From her hotel room at the Chateau Marmont, Norma Jeane tells the story of the Trojan War - a war in which her hands are clean and yet her name carries all the blame. 
Cast and Production Team:
Cast: Taranjot Bamrah as Norma Jeane 
Director: Sydnie Phillips 
Stage Manager: Miriam Sossin 
Set Design by Benny Soave
Lighting Design by Tara Costello 
Costume Design by Abigail Lewis 
Projection and Sound Design by Sydnie Phillips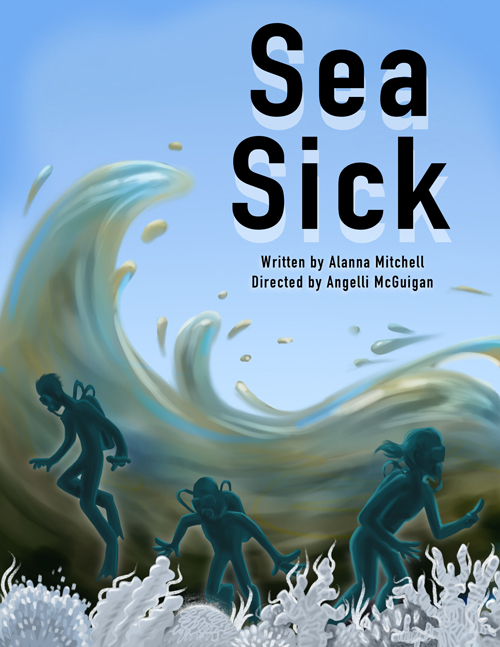 Written by Alanna Mitchell  
Directed by Angelli McGuigan
Saturday, December 4, 2:00pm
Saturday, December 4, 7:30pm
 
Originally a book, Sea Sick. The Play is the result of scientific journalist Alanna Mitchell's expeditions across the world's oceans. In it, she describes how humans have altered the chemistry of the global ocean, and what that means for the ocean's inhabitants, humans, and the future of our Earth. Sea Sick is a journey of discovery, both personal and global, in which Mitchell copes with the harsh reality of climate change, and she eventually learns how to respond, share her discoveries with the world, and calls for change.
Cast and Production Team:
Director: Angelli McGuigan  
Stage Manager: Taufika Ekram  
Graphic Designer: Rebeca Moya  
Set Design: John Cleave  
Lighting Designer: Tara Costello 
Costumes: Gabriel Woo 
Sound: Cass Iacovelli
Actor: Maya Bogojevic  
Actor: Kasey Belding  
Actor: Eashan Sharma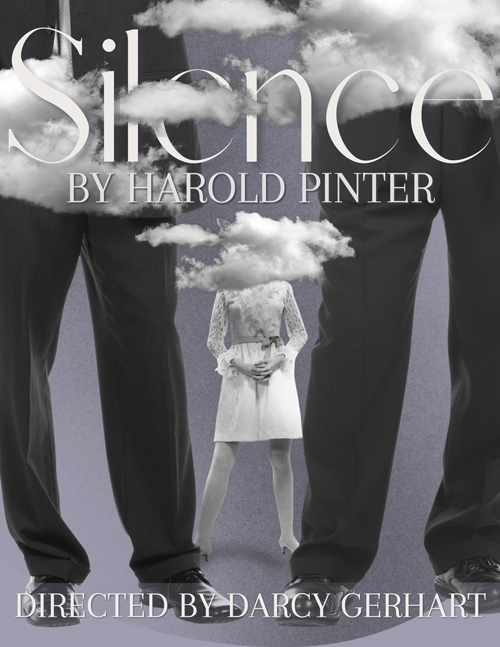 Written by: Harold Pinter
Directed by: Darcy Gerhart
Saturday, December 4, 2:00pm
Saturday, December 4, 7:30pm
 
Silence is an experimental drama, set in a world of memory. Three characters sit on a divided stage, and attempt to define themselves and their place in the world outside. They do so by retelling and reliving moments of intimacy and loneliness; connection and missed connection. The world outside the play is Britain in the late 1960s, with its confining social code and gender roles. The characters, a young woman and two older men, exist in triangular relationship, with both men romantically involved with Ellen. As the play evolves time becomes increasingly disjointed, and the story dissolves into a whirl of thought and image. Ultimately, Silence asks whether it is possible to separate the past from the present, to truly know one's self, and if human connection is possible.
Cast and Production Team:
Ellen: Ayesha Khan    
Bates: Bohong Fu    
Rumsey: Liam Donovan    
    
Director: Darcy Gerhart
Stage Manager: Sabrina Weinstein
Set & Projection Designer: Brad Gira    
Costume Designer: Gabe Woo    
Lighting Designer: Madeleine King    
Sound Designer: Uri Livne-Bar    
Graphic Designer: Isabella Cesari