Music as Narrative: Strategies in Collaborative Devising for Music-Theatre Workshop with James Harrison Monaco and Jerome Ellis
When and Where
Saturday, October 05, 2019

10:00 am

to

3:00 pm
Sunday, October 06, 2019

10:00 am

to

3:00 pm
Helen Gardiner Phelan Playhouse
79 St. George Street, Toronto, Ontario, M5T 2Z9
Description
Music as Narrative workshop: This two-day workshop presents James Harrison Monaco, writer and storyteller, and Jerome Ellis, composer and improviser, working with a group of students on writing, creating, and the storytelling process, with a foundation in determining how sound design generates narrative. Specifically, James and Jerome guide students in thinking and playing through how music can itself become a narrative element (beyond tone, emotion--but actually relaying event), and on writing and composing together through improvisations. Students collaboratively work with both James and Jerome, providing equally the writing/performance side and the musical side. Exercises include writing collaboratively, writing in-the-moment, and progressing from research to writing to staging.
James & Jerome (James Harrison Monaco and Jerome Ellis) are a duo of musician-storytellers based in New York. They make hyper-literary, live-music story performances for theaters and other spaces. Their work has been presented by The Metropolitan Museum of Art, Lincoln Center Education, La MaMa, the Under the Radar Festival, Joe's Pub at The Public Theater, Ars Nova, and The Kimmel Center for the Performing Arts, among others. Learn more at jamesandjerome.org/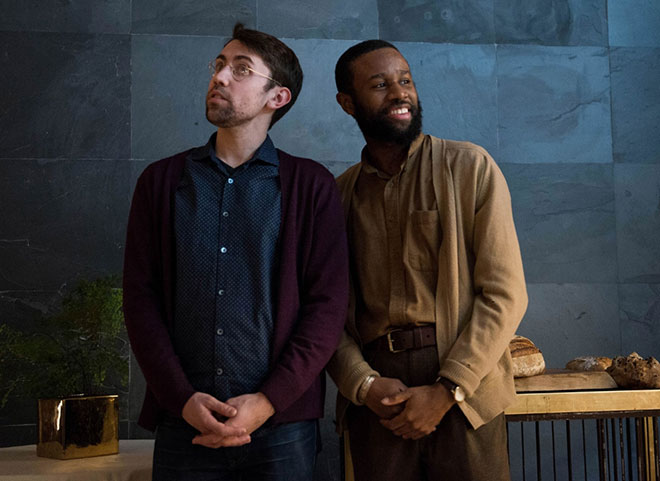 James Harrison Monaco and Jerome Ellis
If you are interested in attending this workshop, please email Professor Nikki Cesare Schotzko. 
There are 12 spaces available for this workshop, more spaces may also become available. 
Array Music will also be hosting an event with James and Jerome on October 3-4, 2019. If you are interested in attending this event please visit: James & Jerome: Piano Tales.
Map
79 St. George Street, Toronto, Ontario, M5T 2Z9
Categories
Audiences