The CDTPS congratulates Professor Jill Carter and the members of the Deep Time Working Group on receiving funding for the fourth year in a row to support their hugely successful working group: Native Performance Culture and the Rhythm of Re-Conciliation: Re-Membering Ourselves in Deep Time. The Jackman Humanities Institute (JHI) provides funding to support cross-discipline working groups in the humanities to meet and further research or engage in scholarly exchange.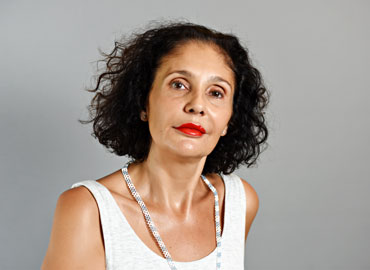 Professor Jill Carter
Professor Carter's Deep Time Working Group initially launched in 2016 with co-convenor doctoral candidate Myrto Koumarianos, who has since taken a hiatus. The group facilitates indigenous artists and activists in their interventions to dislodge colonization from the Indigenous body and excise psycho-spiritual scars affecting the survivors of relocation, re-education, the Sixties Scoop, and forced sterilization.
"We seek to plunge ourselves into 'deep time,' so that we may devise works in the present moment that build legacy for future generations," says Professor Carter. "It is only through painstaking engagement with the tangled history of settlement that future conciliation might be operationalized."
Tools used in paddle making workshop

| | |
| --- | --- |
| | |
Photos by Jill Carter
In Professor Carter's Deep Time Working Group final report, she says to facilitate conciliation, the group members embrace opportunities to explore and test out the means by which to mediate possible sites (topographical, cognitive, ceremonial, and performative) of profound encounter and renewal. She says they also look for opportunities to offer their skills, time and physical labour to support Indigenous community projects that work to strengthen Indigenous individuals.
During the 2018-19 year, the Deep Time Working Group further collaborated with the Great Lakes Canoe Journey (GLCJ) led by Anishinaabekwe Sylvia Plain. The GLCJ partners with Elders to recover traditional technologies used in the construction of Ciimaanan (birchbark canoes).
Paddling Workshop: Humber River

| | |
| --- | --- |
| | |
Photos by Jill Carter
This partnership led to the development of an MOU with the GLCJ and the application for an Indigenous Research Capacity and Reconciliation — Connection Grant through SSHRC. The application titled, Research as Restitution and Redress: The Great Lakes Canoe Journey and the Transmission of Anishinaabewin through "Deep Time," was successfully awarded $50,000.00. These funds will facilitate two initiatives: 
The academic partners (Indigenous and non-Indigenous members of the JHI working group "Deep Time") have embarked upon a 'relationship-build' with Sylvia Plain and the GLCJ. 
The GLCJ will host a canoe-build at Garden River First Nation this summer, so that Anishinaabe Gikendaasowin (knowledge) and Anishinaabewin (Anishinaabe way of being) will be transmitted to and embodied by the Anishinaabe youth who participate in this build.
Approximately 30 individuals make up the working group including faculty and graduate students from U of T, York University and independent scholars, Elders, community-members, and undergraduate students from St. George campus and UTM.
Read more about the Deep Time Working Group on the JHI website or contact Professor Jill Carter for more information.
Categories
Tags