A collaboration between Professors Antje Budde and Jill Carter has been selected as one of the inaugural projects for the Critical Digital Humanities Initiative's Emerging Project Fund for their project, "Streaming Life: Storying the 94!" This project is envisioned as a collaborative, live-streamed, live-performed digital transmedia intervention proposed by the Digital Dramaturgy Labsquared (DDL2) and the working group Native Performance Culture and the Rhythm of (Re)Conciliation: Remembering Ourselves in Deep Time (Deep Time WG) provoked by the 94 Calls to Action by the Truth and Reconciliation Commission Canada. This project will serve a larger performative intervention that has been in development by the Deep Time WG under the direction of Jill Carter. Both Antje and Jill have been collaborating on projects previously, interweaving indigenous archeological/ land-based dramaturgy with feminist-queer digital dramaturgy. One such project was Niimi (s/he dances), which will be presented on Sept. 18, 2021 by the international Be-coming Tree initiative in support of the reforestation of the Amazon forest. This event will be moderated by one of the foremost visual artists from Latvia, Dr. Rasa Smite.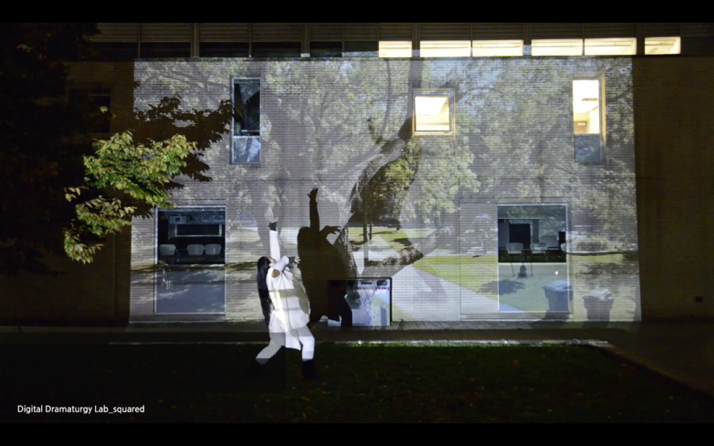 Niimi II (live-performed and live-streamed at the Fields Institute for Mathematical Sciences, Oct.2020 Toronto) Photo: Antje Budde
The Critical Digital Humanities Initiative (CDHI) is a tri-campus research initiative that was funded by the University of Toronto's Institutional Strategic Initiatives (ISI) Program in December 2020 for 3 years (Jan 2021-April 30, 2024). Building on the Digital Humanities Network (DHN) founded at the University of Toronto in 2016, the CDHI positions the University of Toronto as a global leader in bringing questions of power and inequality to digital humanities research. To learn more visit the Emerging Projects Fund.
Categories
Tags